WHAT IS BABYESSENTIALS' NÉONATALE TISSU FABRIC?
BabyEssentials'® 'Néonatale Tissu' Fabric is a special fabric which is made from long fibers, bonded together mechanically or thermally. These engineered fabrics provide specific functions such as absorbency, resilience, stretch, softness, strength, cushioning, thermal insulation, use as a bacterial barrier and sterility.
Néonatale Tissu Fabric, while having texture, feel and certain good properties of a typical textile, is a great barrier to Lint, which is the main source of infection, since bacteria often use it as a carrier. Moreover, it is compatible to multiple sterilization process like steam, ETO or gamma, thereby making it less susceptible to disease causing microbes.
According to the lab test conducted by Intertek India private Limited, a leading International Testing Agency on "Néonatale Tissu" Fabric, concludes that the "Néonatale Tissu Fabric is absolutely safe for the newborn skin and can save them from neonatal infections" (Report enclosed)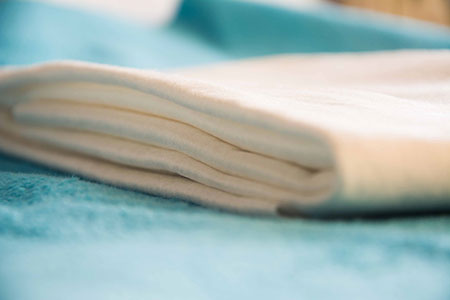 NÉONATALE WRAPPING SHEET AND NÉONATALE INFECTION GUARD KIT
Néonatale Wrapping Sheet (NWS) and Néonatale Infection Guard Kit (NIGK), is made from 'Néonatale Tissu' Fabric. The kit takes care of the head to toe requirement of a neonate soon upon birth. A typical kit would comprise of a Shirt, Headgear, Pair of Mittens and Foot covers, set of two Absorbent Nappies, Wipes, Wrapping sheet and a Cord Clamp.
Both passes through Ethylene Oxide (ETO) sterilization process. Upon sterilization the products are finally packed in open and peel, double layered pouch packing. These packing materials are certified from CE companies which ensure its reliability.
Importance of the NWS and NIGK for Neonates:
India Newborn Action Plan (INAP)* recommends clean and hygienic start for every Neonate. In addition it mentions, that the first 24 hours is extremely critical for any Neonate, since the possibility of catching infections is the most during that period. It further says that Neonatal Infections is the biggest cause of Neonatal Mortality.
Understanding the above, BabyEssentials'® NIGK kit has been especially designed for Neonates (most importantly, for a preterm and certain specific critically sick Neonate), who are most vulnerable to any possible cross infections. The kit provides them a hygienic and safety against any cross infections as it is made from a special Lint free fabric 'Néonatale Tissu'. Further, the ETO sterilization process helps reduce the risk of germs and making our products free from disease causing.
In addition, BabyEssentials'® Néonatale Infection Guard Kit has also been recommended by duly constituted Innovation Committee at ESIC, HQ, New Delhi under the Innovative Category. Recommendation letter enclosed.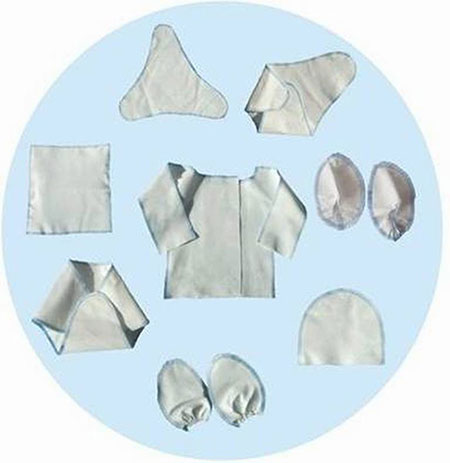 *INAP by Ministry of Health and Family Welfare